Tools for doing business in Montreal

MontrealCIE Business Centre for
Business place for entreprises from
MontrealCIE Business Centre in Montreal in construction and marketing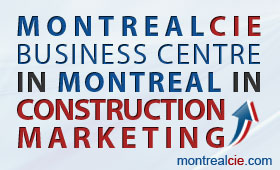 In Montreal the possibilities are great but the competition is also fierce there. Successful companies, whether they are small or large, have overwhelmingly adopted, either consciously or unconsciously, a marketing strategy. In order to occupy the first places it is necessary to appeal to marketing experts who will know how to proceed. In former times, the first places were reserved for advertisers who could spend large sums of money to advertise in newspapers and on radio and TV. Today however, ingenuity and knowledge of Internet marketing allows low cost positioning to the rank of winners for small businesses. It is for this reason that Montreal has potential for small or large companies who call upon the MontrealCIE Business Centre in Construction Marketing team.
Knowing how to sell is good, but knowing how to sell while being an expert and knowing what one sells is even better. It is in this context that the MontrealCIE Business Centre in Construction Marketing in Montreal, which includes expert engineers, architects, building technicians, interior designers and advertising experts, has emerged. This is to help general and specialty contractors, engineers and architect consultants and design consultants to do business in Montreal.
Difference between the Business Centre in construction and a marketing agency
A marketing agency is generally limited to mount a campaign, establish a marketing plan and manage it, even if the agency knows nothing about the sector concerned. Moreover, it can be very expensive to create a Web site for one's own company, launch an Internet campaign, manage calls and appointments and rent or share accommodation with professionals or businesses in Montreal. A marketing agency does not meet the budget and expectations of the majority of SMEs.
The MontrealCIE Business Centre in construction, however, provides a range of services and expertise that:
Makes the design of Web sites available;
Launches campaigns on the Internet;
Responds to customer calls and informs them;
Finds clients, organizes meetings and provides the contact information of the clients.
It remains to the entrepreneurs to go out and meet the clients, set the price and complete the project.
Do not hesitate to contact us!