Tools for doing business in Montreal

MontrealCIE Business Centre for
Business place for entreprises from
Doing Business in Montreal from Quebec city Trois-Rivieres Sherbrooke and the Beauce region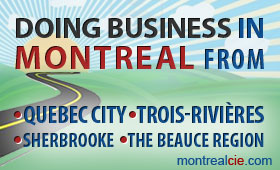 Doing business in Montreal, with a single or shared place of business, a satellite office, a branch with a postal address or simply one or more representatives based in Montreal, allows companies outside Montreal to increase their visibility, have access to a larger market, improve their image to potential clients and facilitate trade and relations on the markets of the Province of Quebec, Canada and internationally. The proximity of cities such as Trois-Rivieres, Quebec City, Sherbrooke, Victoriaville, Granby, St-Hyacinthe or the Beauce region, only a few hours' drive from Montreal, allows companies from smaller municipalities, not only to move easily to Montreal at reduced price and more regularly in order to fulfil contracts and projects in construction, but also to attract customers from Montreal to their municipalities which often offer much lower prices in the real-estate sector.
Consequences and benefits of doing business in Montreal
The advantages of doing business in Montreal include:
Increased visibility;
Access to a larger market and more projects in construction, renovation, engineering, design and architecture;
Improving the image;
The ease of trade and relations in Quebec, Canada and internationally;
Access to more suppliers.
The disadvantages of doing business in Montreal
Among the disadvantages of doing business in Montreal one notices the:
Expensive marketing and publicity ;
Limited flow of traffic during rush hour;
Loss of time on the road;
High cost of office space and rents;
Limited parking accommodation for offices or places of business.
Therefore, it is in order to overcome all these drawbacks that the MontrealCIE Business Centre suggests alternatives, resources and tools to access the Montreal market in an organized manner and without suffering from these problems. MontrealCIE not only facilitates integration into business in the Montreal region but looks for and finds projects in Montreal for entrepreneurs and professionals, such as:
General and specialty contractors;
Consultant engineers;
Consultant architects;
Interior design consultants.
Consultants and general contractors in construction from cities, coming from Trois-Rivieres, Quebec City, Sherbrooke, Rimouski, Chicoutimi, Victoriaville, Saint-Hyacinthe, Granby, Gatineau, the Beauce region and other municipalities, will find, at MontrealCIE, all the tools to establish themselves in Montreal, find contracts and increase their turnover.
Do not hesitate to contact us!