Tools for doing business in Montreal

MontrealCIE Business Centre for
Business place for entreprises from
MONTREALCIE BUSINESS CENTRE IN MONTREAL FOR GENERAL CONTRACTORS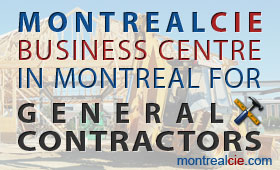 Business people, companies and professionals in the construction industry from cities like St-Jerome, Beloeil, Joliette, Trois-Rivieres, Victoriaville, Sherbrooke, St-Hyacinthe, Granby, Chicoutimi, benefit now from a means to enter the Montreal business market as entrepreneurs, professionals, manufacturers and suppliers of the construction sector. Business people in smaller communities often offer more competitive prices than those in metropolitan Montreal and it is to their advantage to establish themselves in Montreal for business. However, many of them do not dare to take the step because of the high costs to establish themselves there with the office rent, the cost of marketing to find contracts and enjoy a local contact to meet customers. A brand-new Business Centre in the construction sector is now available to help entrepreneurs and businesses of municipalities outside Montreal to enjoy new means to enter the Montreal market.
The MontrealCIE Business Centre in construction
Finds for entrepreneurs contracts and projects with its expertise in marketing and advertizing;
Provides office space and a mailing address to receive and meet with clients and work on estimates and tenders;
Finds and/or provides – if need be - staff in Montreal to work on projects.
A Business Centre in Montreal in the construction industry serving small municipalities. Access to construction contracts in the Montreal region
No need to have big budgets anymore to accommodate oneself temporarily or permanently in Montreal. SMEs find, with the MontrealCIE Business Centre in the construction sector, ways to obtain contracts in Montreal at reasonable prices. Whether it is for:
general contractors from the regions who wish to find and participate in commercial contracts, construction of condos, new houses or for house extensions
contractors specializing in renovation from Trois-Rivières, Victoriaville, Saint-Hyacinthe or other areas, wishing to accumulate contracts for a few days or weeks in Montreal and come to work on projects to renovate the basement, roofs, kitchen or bathroom;
suppliers or manufacturers of windows, floors, or other, who want to increase their sales by having access to larger projects.
A marketing plan, contract management and construction projects in Montreal
The MontrealCIE Business Centre in the construction sector offers packages year round to take care of:
advertising;
customer calls, informing the customers, making appointments and introducing entrepreneurs from the regions;
retrieving the plans and estimates;
working with the head office in the region to help entrepreneurs to present estimates;
offering the Montreal office fully equipped with computers, software for CAD drawings, designers and conference rooms;
organizing meetings between clients and contractors for project presentations;
providing, if necessary, to entrepreneurs from the regions, on-site professionals in Montreal to help them in their projects.
The MontrealCIE Business Centre in the construction sector is the perfect tool to access the Montreal market in the construction industry.
Do not hesitate to contact us!