Tools for doing business in Montreal

MontrealCIE Business Centre for
Business place for entreprises from
Company internships for students and contractors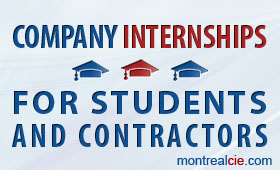 Unpaid internships in companies for students, consultants and even for business people are available in Montreal through the intermediary of the MontrealCIE Business Centre and the website www.workexperienceincanada.com . The goal is to help students incorporate the employment environment with an introduction to the workplace in a company. For business people who are mostly from outside of Montreal, such as: general and specialty contractors, suppliers, manufacturers and professional construction SME consultants, as well as engineers, architects and designers, the goal is to increase their turnover.
Internships in companies in Montreal for students and consultants
The goal for students and consultants is to help them to:
Obtain a first practical experience while studying or after their graduation;
Clarify their decision making as to whether this should be their career;
Participate in innovative projects;
Establish more contacts with entrepreneurs in the field and find a job.
The student or graduate consultant, instead of being limited to sending out resumes from home, will be able to continue his job search in the evening or part-time and, if need be, spend a few hours during the day in order to go to interviews all the while being active and recommended by the company.
Students and consultants will have more opportunity to be paid for portions of specific projects if the company obtains innovative contracts on which it works and makes proposals.
Internships in companies in Montreal for business people
The goal for business people is to:
Propel their businesses from outside Montreal by incorporating them into a Montreal construction company gradually and thus to let them learn about the construction business in Montreal by:

meeting potential clients;
meeting suppliers, subcontractors and professionals from the construction sector in Montreal and thus increase their network of contacts ;
finding a partner to represent them in Montreal;
enjoying a fully equipped office to start their businesses in Montreal;
participating in projects and thus have the chance to offer their products and services.
Contractors from outside Montreal wishing to seek more contracts in Montreal will not be able to do that the usual way by hiring a local or limiting themselves to visiting clients or walking the streets and placing ads, but by taking advantage of advice, offices, equipment and marketing of a construction company in Montreal in which they participate.
Conditions for internships in companies in Montreal
Certain conditions apply to join the internships, all depending on the profiles of the students, consultants, SMEs, business people or companies.
The MontrealCIE Business Centre in Montreal is a business platform allowing students, consultants and business people from outside Montreal to gain experience in a practical way and propel their careers and businesses.
Do not hesitate to contact us!