Tools for doing business in Montreal

MontrealCIE Business Centre for
Business place for entreprises from
MontrealCIE Business Centre in Montreal for engineers and architects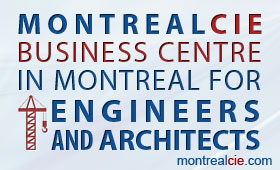 After extensive studies in engineering or architecture and high expenditure on study programs, it is not easy for young graduates to find their first job without experience, or for contractors, engineers and architects to start in business. Professional contractors, engineers and architects, be it either in Montreal or outside Montreal, can now receive support to start their businesses with the help of a Business Centre in the construction, engineering and architecture sector, that provides marketing, offices and an environment with computer tools and software to start in business.
Internship, training and business coaching for young engineers or architects in Montreal
For young graduates or new professional entrepreneurs who want to go more gradually, the MontrealCIE Business Centre in construction and architecture offers internship programs in business for engineers, architects, building technicians and interior designers. These courses allow you to become familiar with the business world, with projects and with the construction industry in Montreal by being involved in projects of all kinds, such as: structural corrections, inspection of buildings, extension plans, calculations or drawings of all kinds. These internships are perfect for young graduates who do not wish to be limited to sending out resumes to get started in the world of work. The MontrealCIE Business Centre offers them to spend their days in a useful way together with practical job searching all the while making contacts in the field and gain experience.
Starting in business for SME entrepreneurs engineers and architects
Starting a business with professional tools is, for engineers and architects, an important asset because the renting of an office, marketing, administrative staff, IT-equipment and professional CAD software are expensive. In addition, reasonably priced access to a team of professional partners is not an easy matter. To contractors, engineers and architects who want to establish their SME consulting firms, the MontrealCIE Business Centre in construction marketing offers its offices, finds and presents projects to the members and provides professional equipment and software to do the engineering and architecture work. Professionals have the choice to meet their clients in person and manage projects or go through the intermediary of the construction company, Construction Daniel Dargis Inc., to receive mandates as professional subcontractors. A base amount is requested for:
The annual membership;
Marketing;
The renting, sharing and use of office space and equipment on a casual, semi-temporary or more frequent basis;
Access to events, various services and for office partners wishing to promote their SMEs in engineering and architecture.
The MontrealCIE Business Centre, expert in construction, is the ideal environment for young interns to gain experience or for professionals who want to start their SMEs in engineering or architecture.
Do not hesitate to contact us!