Tools for doing business in Montreal

MontrealCIE Business Centre for
Business place for entreprises from
Construction contracts for contractors in Montreal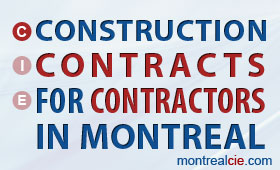 For companies wishing to increase their sales volumes in the Province of Quebec and Eastern Canada, Montreal is the ideal business platform and the MontrealCIE Business Centre is an indispensable tool. Companies from other municipalities and regions in Quebec such as: the great City of Quebec, Trois-Rivières, Sherbrooke, Chicoutimi, the Beauce region, Victoriaville, Drummondville and from the largest cities in Western Canada, such as Toronto, Calgary, Edmonton or Vancouver, will find in Montreal a business platform to increase their sales. The MontrealCIE Business Centre, being an expert in construction, engineering and construction marketing helps companies from the cities of the Province of Quebec and Western Canada to obtain:
a business office in Montreal;
a team of expert representatives ;
contracts.
Montreal business place in construction
Montreal is the business place of choice for companies with the courage and determination to have access to a larger market in Eastern Canada. A business centre in construction, engineering, design and architecture was created in Montreal to help companies locate, invest and obtain contracts in the greater Montreal area. The MontrealCIE Business Centre is the only one of its kind in Quebec and Canada and includes experts in marketing, construction and engineering to provide access to contracts such as for: home improvement, kitchens, bathrooms, building additions, new home construction, renovation and construction of commercial buildings. The MontrealCIE Business Centre wants to be a more powerful and convenient tool for contractors and construction companies who do not have the time and resources in order to obtain more contracts in the construction sector. Between 2012 and 2013 the MontrealCIE Business Centre had access to more than $25 million in construction and renovation projects.
Experts in construction marketing
These days Internet marketing plays an important role for companies in the construction industry who wish to gain visibility and get contracts in construction, architecture, design and engineering. The MontrealCIE Business Centre in Montreal provides companies with experts in Web design, SEO, referencing, and the writing of articles to position your business among the first on the Web and receive calls and get contracts this way. Companies in the construction sector will find, with the marketing and construction experts from the MontrealCIE Business Centre, a team of experts familiar with the construction and marketing field and capable of better understanding and targeting the desired customers to obtain contracts, be it for construction, renovation, engineering, architecture or design projects.
Representation experts in construction
Moreover, as experts in construction our Montreal-based team of engineers, interior designers and building designers act as representatives for companies outside Montreal and they answer calls following the advertisements we put up for businesses and then we transfer to them requests and contracts.
The MontrealCIE Business Centre in Montreal is an essential tool for companies wishing to increase their business volumes.
Do not hesitate to contact us!