Tools for doing business in Montreal

MontrealCIE Business Centre for
Business place for entreprises from
COMPANY SERVING GENERAL CONTRACTORS IN CONSTRUCTION IN MONTREAL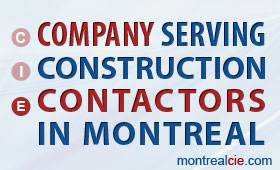 General and specialized RBQ entrepreneurs and business people from the construction industry looking to locate in Montreal to increase their sales now benefit from using a Montreal-based company opening its offices to make room for companies from outside of Montreal. The MontrealCIE Business Centre based in Montreal, an expert in construction advertising and marketing and management of construction projects, helps general contractors in construction and renovation as well as professional engineers, architects and designers to find new customers and contracts in the larger Montreal region.
Construction and Web marketing experts
Nowadays, advertising and marketing in the construction industry require more than simply putting up a big announcement on a street corner. Construction marketing is done on the Web and in the social media but also in the street, going towards business opportunities by being alert to opportunities for land and buildings and by directly contacting potential clients. Entrepreneurs generally have enough worries to deal with on their sites, projects, staff and administration of their business and they do not spend much time to learn computerized marketing techniques. Too often, contractors and construction professionals do business with marketing and advertising firms who know only very vaguely the construction sector and offer marketing solutions with few results.
But now, a construction company in the region of Montreal opens its doors as a Business Centre and Marketing Experts for entrepreneurs and professionals from outside Montreal seeking more contracts. It is a company from the construction sector at the service of general contractors. Entrepreneurs can now interact directly with experts in construction and marketing.
Obtaining contracts in the construction sector is not only limited to putting ads on the Web. Customers calling need attention and the contractor is not always able to offer a rapid response to calls or the attention that customers require. Often entrepreneurs or professionals are busy with projects or on the work sites and they cannot answer calls, guide customers and provide adequate and timely information. Potential customers, looking for a contractor on the Web, when they start making calls, within a few minutes find two or three contractors for a free estimate. It is useless to start a Web campaign if the contractor or the professional can not answer calls in a timely manner.
Business Centre in Montreal for entrepreneurs to find clients and projects
It is for this reason that the MontrealCIE Business Centre focuses its attention on finding clients and contracts with its team of Web marketing and construction experts in addition to offering offices and conference rooms to help construction contractors who have their licenses, labour and equipment for the realization of projects. The MontrealCIE Business Centre:
Does the marketing;
Receives incoming calls and provides basic information about: engineering, architecture, design, construction and renovation;
If necessary it sends a building technician to gather information on the project and produce a more accurate estimate: photos, taking measures, sketches, 3D drawing;
Call the contractor to offer him to bid on the project, to transmit the collected information and arrange a meeting.
In this way the contractor restricts his movements having at hand the information from an expert and he can safely take care of his projects knowing that a competent team is responsible for finding customers and contracts while giving good information.
Do not hesitate to contact us!